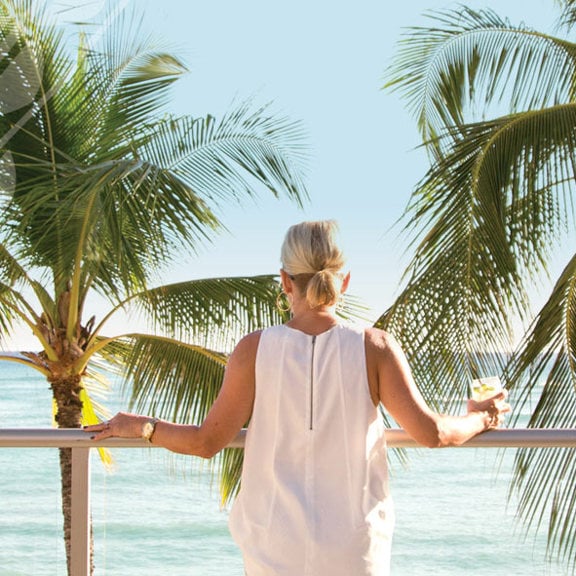 Back to all stories
Discover Voyager 47
Kona coffee. The most beautiful view in Waikiki. Unlimited craft beers.
Intrigued? You should be! The Voyager 47 Club Lounge at Outrigger Reef Waikiki Beach Resort offers all this - and more.
Whether you want to sit on the open sundeck directly overlooking Waikiki Beach, or inside at the air conditioned lounge bar, the hosts at Outrigger Reef are ready to elevate your experience in paradise. In club-lounge style.

At Voyager 47, guests are invited to start their day with a "Sunrise Invitation for Exploration," a locally inspired breakfast menu with items like guava bread, pineapple curds, and fresh tropical fruit. Kona coffee is served as they review expert advice for their day's travels. Before leaving the lounge, guests can take a local snack to-go, which is perfectly paired with the day's recommended activity.

The "Signature Sunset Celebration" is an early evening reception that welcomes guests back to the resort for a night of rejuvenation and relaxation. Guests can enjoy pupu (our take on hors d'oeuvre), a Signature Cocktail prepared just for Voyager 47 guests, or unlimited local wine, champagne, or craft beers from Kona Brewing Company.

If you really want to discover all that Hawaii has to offer, look no further than Voyager 47. Book your stay at Outrigger Reef here.