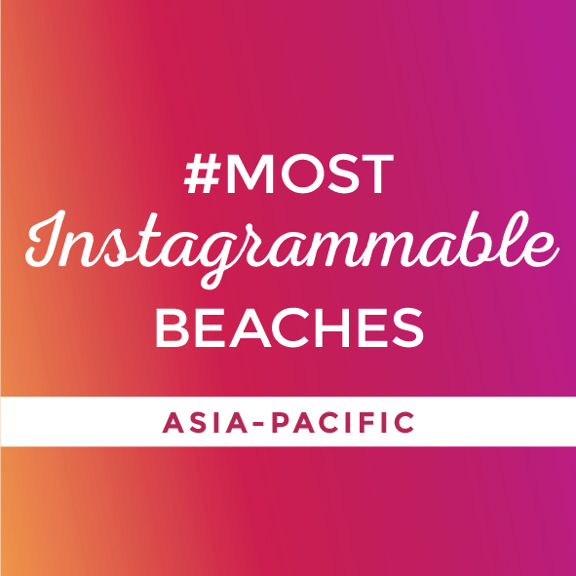 Back to all stories
The 5 Most Instagrammable Beaches: Asia-Pacific Edition
While there's something to be said about a day spent exploring ancient temples and savoring delicious street food at an eclectic night market, there really is no better feeling than having the sand between your toes as you slowly make your way toward the azure blue waters on the beaches of Asia-Pacific's varied coastline. From waves crashing along pristine white sandy beaches to awe-inspiring fiery sunsets on remote islands surrounded by coral reefs, the beaches of Asia-Pacific are calling your name.
These Instagrammable beaches, from the bustling Thailand beaches to the secluded shores of Fiji, will leave you packing your bags and taking the next flight out to bask in paradise.
Choeng Mon Beach, Koh Samui, Thailand
A five-minute drive from one of Thailand's most luxurious waterfront resorts takes you to the island's most popular powdery white sand beaches. Located on Koh Samui's north coast, Choeng Mon beach stretches along a quiet bay that's mainly known for its stunning sunset views that are Instagram-worthy. And thanks to the calm waters, you can paddle out and explore the small, uninhabited island a few miles from shore.
Bangtao Beach, Phuket, Thailand
One of Phuket's longest stretches of beach, Bangtao offers visitors over four miles of pristine coastline and soft sands perfect for soaking up the sun. Heading further north up the beach will reward you with gently swaying palm trees and nearly empty oceanfront views of the warm blue waters of the Andaman Sea. The lack of beachgoers comes in handy not just for watching the striking daily sunsets over the horizon, but also as the ideal setting for your perfect vacation-in-paradise Instagram shot.
Castaway Island Beach, Fiji
Accessible only by boat or seaplane, the beaches of Castaway Island offer visitors a remote opportunity to experience the Fijian landscape.Verdant rainforests serve as the backdrop for immaculate white-sand beaches, which open up to cerulean waters that are teeming with vibrant coral reefs and thriving marine ecosystems. From adventuring on jet skis and snorkeling in crystal-clear waters to lying on a hammock overlooking the beach with a tropical cocktail in hand, you'll end up with a plethora of enviable Instagram shots to curate your vacation feed.
Inspired to explore the top beaches for yourself? Book a trip to paradise today.