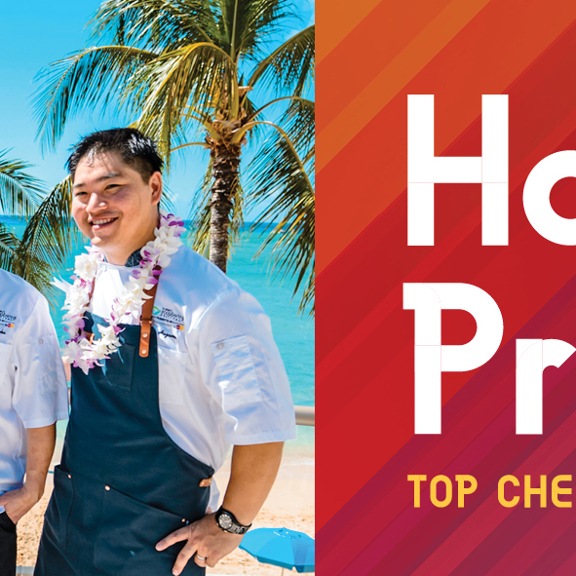 Back to all stories
Hawaii Pride: Top Chefs Take the Stage at Drag Appetit
Huli Huli Chicken with Charred Pineapple Relish. Waialua Chocolate Wonton with Sweet Potato Haupia Sauce. Wasabi Poke Tacos. Going far beyond the (must-try) Hawaii street-food staples like Spam musubi and shave ice, the islands' cuisine has global cred—and inventive, top chefs to match.
Once a year, Hawaii's best and brightest culinary masters gather around the islands for the one-of-a-kind Hawaii Food & Wine Festival (HFWF). Founded in 2010 by two of Hawaii's own James Beard Award-winning chefs, Roy Yamaguchi and Alan Wong, HFWF has become a go-to for both epicurean discovery and acclaimed talent alike.
This month, over 150 culinary personalities, internationally renowned master chefs, and wine and spirit producers gather on multiple Hawaii islands for the Ninth Annual HFWF to feature everything from low-key burgers and brews to a Michelin-star, master-chef gala.
And now, HFWF is partnering with 2019 Honolulu Pride to include a first-ever pride event on its lineup: the EFFEN Vodka Presents Drag Appetit. The brunch event will showcase six of the islands' leading chefs—including Delia Romano, Outrigger Resort Waikiki Beach Resort's executive sous chef, and Kelvin Ro, Diamond Head Market & Grill chef and owner. Each chef will share one of their favorite brunch-able dishes (think a perfect mix of savory and sweet). Alongside a signature (free-flowing!) Bloody Mary bar and NYC and Seattle mixologists, Drag Appetit is one of HFWF's most fun—and stylish—new HFWF additions.
Even better than celebrity chefs and handcrafted cocktails? Honolulu's best drag performers will take center stage. Attire is casual, but guests are invited to dress for the occasion as they get into the action and help countdown to the headlining drag performance, and the celebration continues with a special performance by soulful, makes-you-wanna-dance '80s cover band, The Party Monsters.
The guest list will include a who's-who of the LGBT community and beyond, with World Pride Day in NYC attendees bringing the stateside spirit of pride to the island. And held at Blue Note Hawaii, the Outrigger Waikiki Beach Resort's location of the iconic New York-based jazz club, the event will be intimate and welcoming—and as lively as it is delicious.
EFFEN Vodka Presents Drag Appetit
Sunday, October 27 | 10:30AM- 1PM
Blue Note | Outrigger Waikiki Beach Resort
Purchase Tickets ($95 per person GA, $150 per person VIP, tax and fees included)
ml?emailAddress=" scrolling="no" style="height: 280px;" frameborder="0">