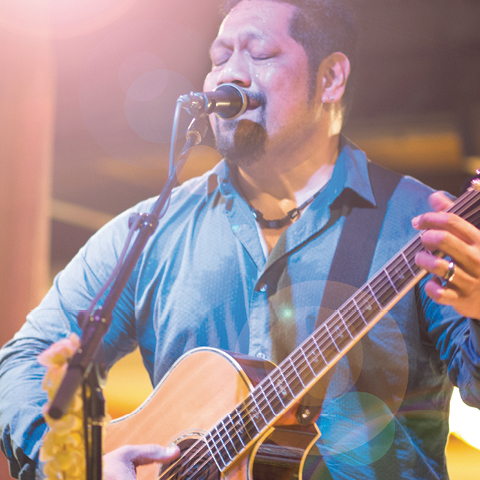 Back to all stories
A Proud Tradition of Hawaiian Music
Last week, Hawaiian music lovers around the world tuned in to watch the virtual edition of the 53rd annual "Hawaiian Grammys" — the esteemed Nā Hōkū Hanohano Awards.
Music has always played an integral part in native Hawaiian tradition and culture, and today's native Hawaiian artists like Makana—who wrote "The New Sound of Waikiki" as a laid-back getaway soundtrack for Waikiki Beachcomber's public spaces—and Grammy-nominated Henry Kapono blend traditional island-music styles with new global beats, enabling them to spread aloha through song.
And for longstanding Hawaiian resorts like Outrigger, music and culture have always been front-and-center, too. From the unveiling of iconic Hawaiian vocalist and steel guitarist Gabby Pahinui's statue at the Waikiki Beach Walk back in 2017 to sponsoring the Na Hoku Hanohano Awards, Outrigger is honored to champion Hawaii's richly diverse and ever-evolving music scene.
Several of the 2020 Hawaiian Grammy award winners are part of the Outrigger music family, including Kala'e and Kamaka Camarillo, Kamuela Kahoano, Ei Nei, Kupaoa, Ken Makuakani, Na Wai Eha, Amy Hanaialii-Gilliom, Jeff Peterson and Natalie Ai-Kamauu who have performed at the resort's special events or its renowned Kani Ka Pila Grille. This year's event was also extra-special for the resort year, as Outrigger's resident "Ambassador of Aloha" Aunty Luana Maitland handed out multiple awards, including the Best Island Music category to Josh Tatofi.
Continuing its music tradition, Outrigger is now bringing nightly jam sessions to living rooms around the world with the Outrigger LIVE: Kani Ka Pila Music Jam on Facebook. Fans have a chance to connect with their favorite artists live online, and musicians have the opportunity to collect tips from their fans as well. Featuring Hawaiian Grammy award-winning artists like the aforementioned Kamuela Kahoano—who typically performs poolside at the Kani Ka Pila Grille—Outrigger LIVE brings the aloha—and healing— of Hawaiian music to future travelers, wherever they are located.
"As an ambassador of Hawaiian music, it brings me pure joy to deliver 'Aloha' to these long-distance lovers of Hawaiian music," said Kawika Kahiapo, six-time Nā Hōkū Hanohano Award winner and weekly Outrigger LIVE performing artist.
As part of the Made in Hawaii Festival this summer, Outrigger Reef Waikiki Beach Resort continued its own tradition of hosting its 12th Annual Kani Ka Pila Grille Talent Search virtually this year, showcasing up-and-coming Hawaiian musical artists in front of a panel of some of Hawaii's most distinguished musicians and industry personnel. This year's winner, Hui Mele, a trio from Ewa Beach, walked away with a studio recording session from MELE Studios and a paid contract for four live performances at Kani Ka Pila Grille in 2021.
Ready to plan a musically-inclined getaway? Start by booking a stay at one of the Oahu's favorite resorts now.


ml?emailAddress=" scrolling="no" style="height: 280px;" frameborder="0">