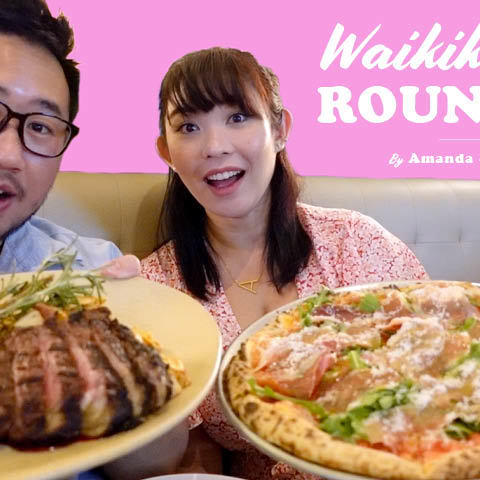 Back to all stories
Waikiki Eats: Amanda + Felix's Top 5 Foodie Hotspots
It's time to talk about some beloved Waikiki eats. Anyone who has spent time in Waikiki knows how treasured the local eateries are. These are the spots where both visitors and locals come together to celebrate amazing food and good conversation with sunshine and salty ocean sprays still drying on their skin.
In this roundup, we are highlighting Hawaii food vloggers Amanda and Felix's favorite spots to eat in Waikiki. If you're a fan of this duo, you already know that they usually focus on showing people where to get cheap eats, and we decided to focus on a few of their favorite Waikiki haunts for this special locals-love list.
Every spot that made the list is located right in the heart of Waikiki (and within walking distance to Waikiki Malia by Outrigger if you're looking for a low-key central home base with cool art and culture). Here's the foodie-approved list of five places to get your eat on in Waikiki.
Hawaiian Aroma Café at Waikiki Beachcomber
Known for its award-winning custom coffee roast that has earned a following for being the best coffee in Hawaii, local favorite Hawaiian Aroma Cafe dishes out yummy breakfast items like guava waffles, salted-caramel waffles and truffle waffles. There's also a drink menu full of made-for-poolside-sipping cocktails that combine the spirit of aloha with traditional old-world spirits. Hot drinks, iced drinks, colorful acai bowls, pastries and hearty paninis round out the menu.
Amanda and Felix Favorite: The turkey pesto panini made with housemade pesto.
Duke's Waikiki
The legendary Duke's Waikiki welcomed Amanda and Alex on a gorgeous evening just as the sun was setting over the eatery's ocean views. Duke's is known for its high-end seafood menu peppered with favorites like panko-crusted calamari, roasted Tristan lobster and coconut-ginger braised seafood. There's also plenty of food "from the land" like slow-roasted prime rib and filet mignon. The drink menu covers beers on tap, bottled beers, wines, bottled wines, cocktails and more.
Amanda and Felix Favorite: It's no surprise that the famed hula pie left Amanda and Felix nearly speechless. Featuring chocolate cookie crust, ice cream, hot fudge, toasted macadamia nuts and whipped cream, the hula pie was huge enough that Felix joked it must have been modeled after the iconic Diamond Head.
Hula Grill Waikiki
Hula Grill got on Felix and Amanda's radar because of its menu full of dishes made of locally sourced ingredients inspired by local fishermen, farmers and "ohana" (family). The duo decided to brunch by the water to enjoy the eatery's famed mimosas made with orange, guava, papaya and POG juices (and the Hula-Rita is another local fave).
Amanda and Felix Favorite: For Felix, the prime rib with fingerling potatoes and au jus, and for Amanda the lump crab benedict.
Appetito Waikiki
Where's the best place in Waikiki to enjoy hand-stretched Neapolitan pizza? Amanda and Felix headed to Appetito Waikiki to enjoy the eatery's famed kiawe-wood Naples-style pizza. The duo raved about the light crunch of their wood-fired pie. In fact, Amanda was so impressed by the ambiance and flavor offered by Appetito that she shared her surprise at the fact that it has managed to remain a favorite spot of locals without being discovered by hoards of travelers.
Amanda and Felix Favorite: The wood-fired pies (well, and pie companions like crab fettuccini, vanilla ice cream with an espresso shot (affogato) and matcha tiramisu).
Roy's Waikiki
During their visit to Roy's, Felix and Amanda shared that this eatery is their top pick for date night in Waikiki. Roy's is renowned for offering the freshest seafood and mouthwatering Hawaiian regional cuisine. The duo didn't leave without first relishing in Roy's famed chocolate molten lava cake and pineapple upside-down cake.
Amanda and Felix Favorite: The flying dragon roll, kiawe-wood baby-back ribs, misoyaki butterfish, macadamia-nut catch of the day and show-stopping European sea bass (yes, all of the above!).
Satisfy Your Appetite for Paradise
Is it really a vacation if you don't have the best food of your life? Breakfast, brunch, lunch, dinner and date night at Waikiki's vlogger-approved favorites are within walking distance when you stay at the perfect-home-base, Waikiki Malia by Outrigger.