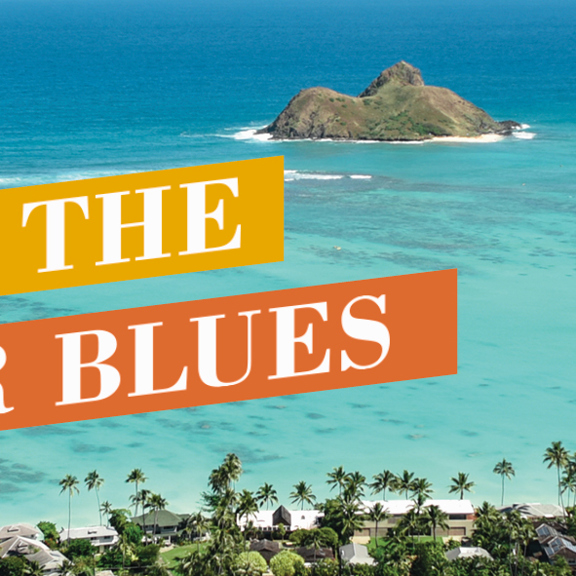 Back to all stories
Where to Escape the Winter Blues
We've all been there. You're stuck at home staring at gloomy sky and you think to yourself 'If only I could teleport myself to a beautiful island somewhere'.
Well, while we're all still waiting for Star Trek-style teleportation devices to become reality, the next best thing is a winter-sun vacay. There's nothing like the thought of an upcoming tropical getaway to power you through the darkest months of the year.
If you're trying to figure out where to winter, one of the best places in the world is the stunning island of Oahu in Hawaii, nestled amidst jewel-colored waters. The island has the perfect winter climate: an average daytime winter temperature of a blissful 78° (25.6° C). It's ideal for getting active and exploring.
For decades, snowbirds and holiday-makers alike have been depending upon Hawaii getaways, knowing the destination is a superb choice for warm winter weather. And here's the good news. Winter is when you can find the best hotel deals to help you achieve a mid-winter glow.
We've rounded up the top sights and activities to enjoy in this tropical playground:
Diamond Head
This iconic state monument is a dormant volcano, with show-stopping views over Honolulu and the glittering ocean. One of the most well-established ways of staving off the winter blues is by getting your blood pumping. So hike up the rocky trail and enjoy a feast for the eyes. If you dare, take the last 99 steps to the summit and gaze in wonder at Hawaii's raw natural beauty.
Lanikai Beach
Often touted as 'the most beautiful beach on Oahu', Lanikai Beach's crystal-clear water and fine, white sand is sure to blast away any the winter blues. It's just a half-hour drive from Honolulu, on the sunrise side of the island. Soak up some rays while you admire views of the Mokulua islands or take advantage of the steady breeze with some kitesurfing or windsurfing lessons. In fact, if you prefer a more active vacation style, Lanikai Beach is a haven for all things water-sports, including stand-up paddle boarding and kayaking, too.
Kahe Point
This is one of the most popular snorkeling beaches amongst Oahu locals, so make like a dolphin and dive in! Insiders rate it for the best visibility in Hawaii combined with scores of colorful tropical fish and fewer crowds than at other spots. Green sea turtles just love the warm water at this site. You can either wade in from the shore or hop on a snorkeling excursion boat to drop you directly at the best spots. And this hidden gem is located just 30 minutes from the capital.
These picture-perfect sites are located within easy reach of Oahu's top resorts, so get Instagramming and make your friends shivering at home green with envy! Book your stay here.