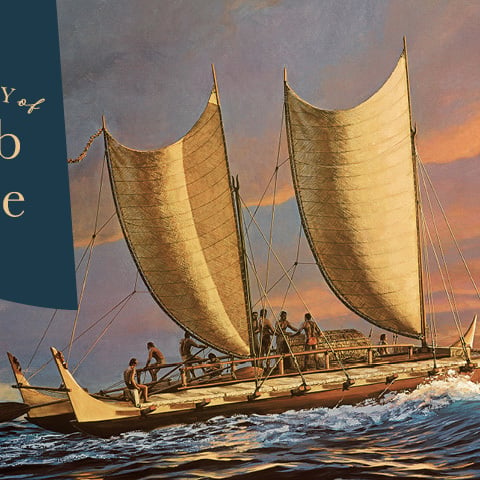 Back to all stories
Renaissance Man: The Inspirational Life of Herb Kawainui Kāne
Walking into the newly remodeled Outrigger Reef Waikiki Beach Resort, it's hard not to notice the theme of voyaging – and, the legacy of Herb Kawainui Kāne.
The extra large original voyaging paining behind the check-in desk? That was painted by Kāne.
The paintings in each bedroom and suite of the Hokulea sailing canoe? Those were also painted by Kāne.
And the lobby installation from artist Ethan Estess? Inspired by Kāne.
The legacy of the late artist, historian and founding member of Polynesian Voyaging Society has been featured throughout the resort for decades – and has now taken on new life in the renovated Herb Kane Lounge, located in the completed remodeled hotel lobby.
But who was Herb Kawainui Kāne?
The currents have ebbed and flowed since the Hawaiian Islands rose from the depths of the ocean more than 27 million years ago. Veiled in mystery and filled with hope, Hawai'i's past has defined its future, moving with the tides of time in a rhythmic lull that can be described as "Aia no I ke ko a ke au"—whichever way the current flows. For the late Herb Kawainui Kāne, that meant coming home to Hawaii
Born in the small Midwestern town of Marshfield, Minn., on June 21, 1928, Kāne's accomplishments were many but few were dearer to his heart than art, Hawaiian history and wayfinding, the traditional navigational technique that relies on gauging the position of the sun, moon and stars, taking into account variations in ocean currents and wave patterns, and even the behavior of fish and birds.
Everything in Hawaiian culture was related to the canoe in some way," wrote Kāne in Voyagers, in which he describes his own voyage into the world of art, and uses his research to depict the history and culture of ancient Polynesian voyagers. "If we could rebuild that central artifact, bring it back to life and put it to hard use, this would send ripples of energy and reawaken a lot of related cultural components.
After serving in the Navy, Kāne attended the School of the Art Institute of Chicago and earned a graduate degree at the University of Chicago in 1953. Soon thereafter, he found himself working at a commercial studio, designing ad campaigns for such American household icons as Kellogg's, United Airlines and Green Giant. However, his true passion—and really more of an obsession, he once admitted—was illustrating ancient Polynesian canoes.
While working on his seminal "The Canoes of Polynesia" (a series of 14 illustrations), Kāne met anthropologist Ben Finney and champion canoe-paddler Tommy Holmes. It was the early 1970s, a time that many now consider the rise of the second Hawaiian Renaissance era. This cultural reawakening not only sparked interest in the Hawaiian language but it also rekindled the art of hula kahiko (ancient hula), kapa making, and traditional navigation and voyaging.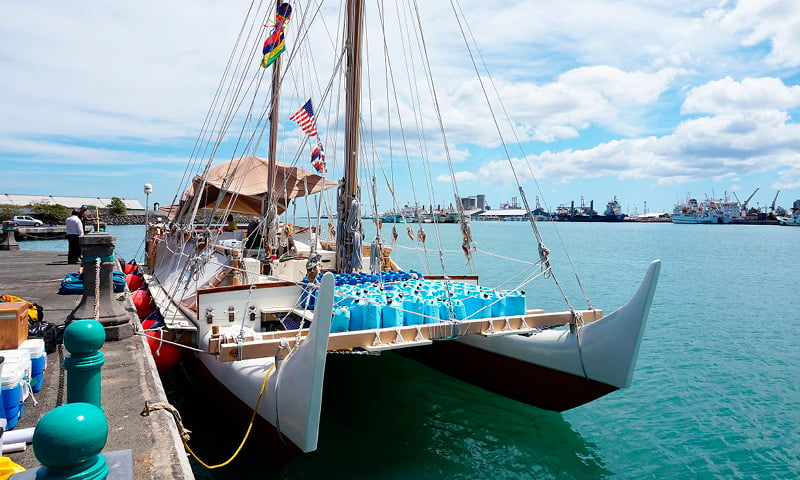 In 1973, Kāne, Finney and Holmes established the Polynesian Voyaging Society. Their mission: to build a historically accurate wa'a kaulua (double-hulled sailing canoe) and sail it from Hawai'i to Tahiti, finally dispelling the long-held belief that ancient voyagers "accidently" landed on the shores of Hawai'i Island. And thus began the journey of designing and architecting the Hōkūleʻa, our Star of Gladness, aboard which Kāne served as its first captain in 1975. One year later, Hōkūleʻa would successfully sail to Pape'ete Harbor, charting a course like many ancient voyagers had so done before it.
In an illustrious career that has included advertising art, publishing art, architectural design, painting, writing and sculpture, Kāne's legacy will continue to endure through time. His art has appeared on seven postage stamps for the U.S. Postal Service, as well as stamps for the Republic of the Marshall Islands, the Federated States of Micronesia and French Polynesia. His Hawai'i commemorative stamp, celebrating 50 years of statehood, was released in August 2009. In paying tribute to Kāne, the late Sen. Daniel Akaka said: "Herb Kāne helped the world recognize the history and culture of the Native Hawaiian people through his art. He showed ancient Hawaiians as they were, explorers, seafarers, trailblazers in land and resource management. His beautiful portraits displayed on stamps, in National Parks and in museums continue to inspire people around the world.
On his website, Kāne succinctly wrote: "If my work contributes to our comprehension of Hawai'i's past, that will ultimately become the greatest reward."
On March 8, 2011, Kāne passed away at the age of 82. And three years later, Hōkūle'a, along with sister ship Hikianalia, would embark on a four-year voyage—"Malama Honua" (Care for the Earth)—that would eventually include 23 nations and 150 international ports of call, and cover a distance of more than 60,000 nautical miles.
As Kāne once notably remarked, "A United Airlines jet may have transported me to Hawai'i, but it was a sailing canoe that brought me home.
It's our honor to continue his legacy.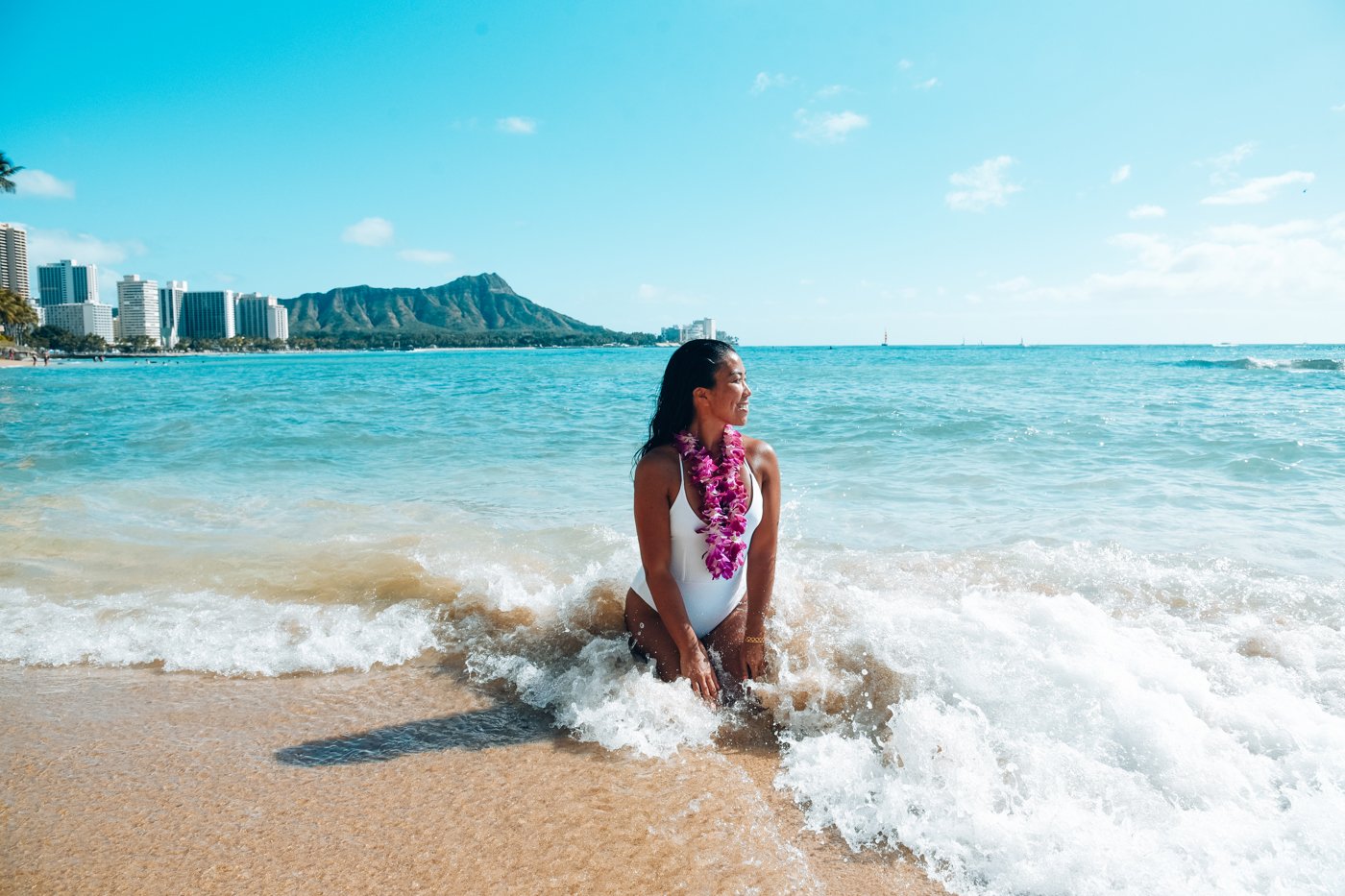 If you crave a more immersive and intimate experience with the world's oceans, only an adventure that sprinkles your soul with salt water will do. There's always something happening on the world's most iconic beaches.