Outrigger Waikiki Beach Resort
Take a tour throughout our resort and learn about the history of surfing, the life of legendary surfer Duke Kahanamouku and how surfing got its roots right on the beach in front of our resort.
Guests will meet at the Kaukahi canoe in the resort lobby.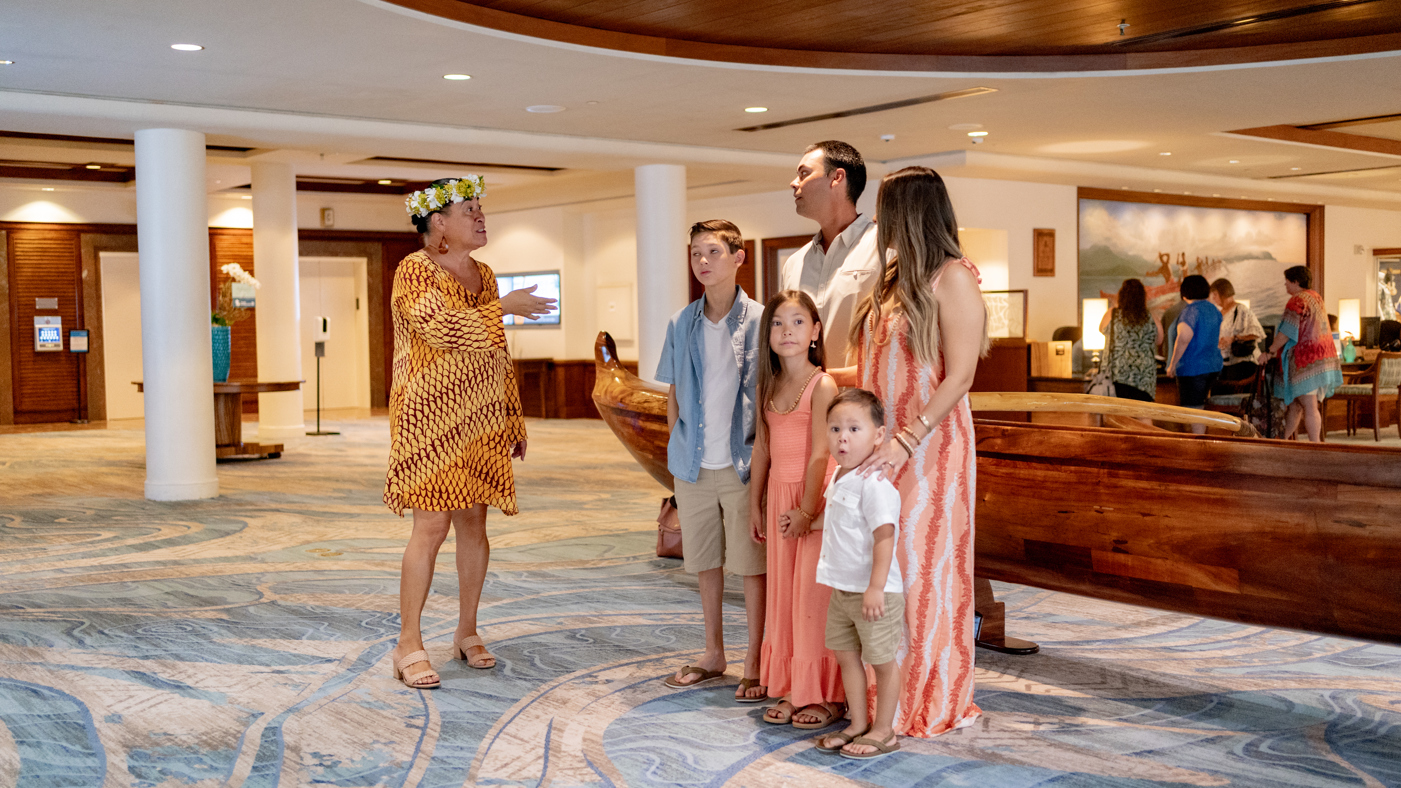 Surf exhibit
Love & Surf in old time Hawaii featuring a collection of stories about surf in Waikiki Beach past, "Kelea at Waikiki", Ambassador of Aloha and surf legend Duke Kahanamoku, the beachboys photo's, a traditional "Alaia" surf board shaped by Pohaku Stone, video loop by Moniz ohana and more.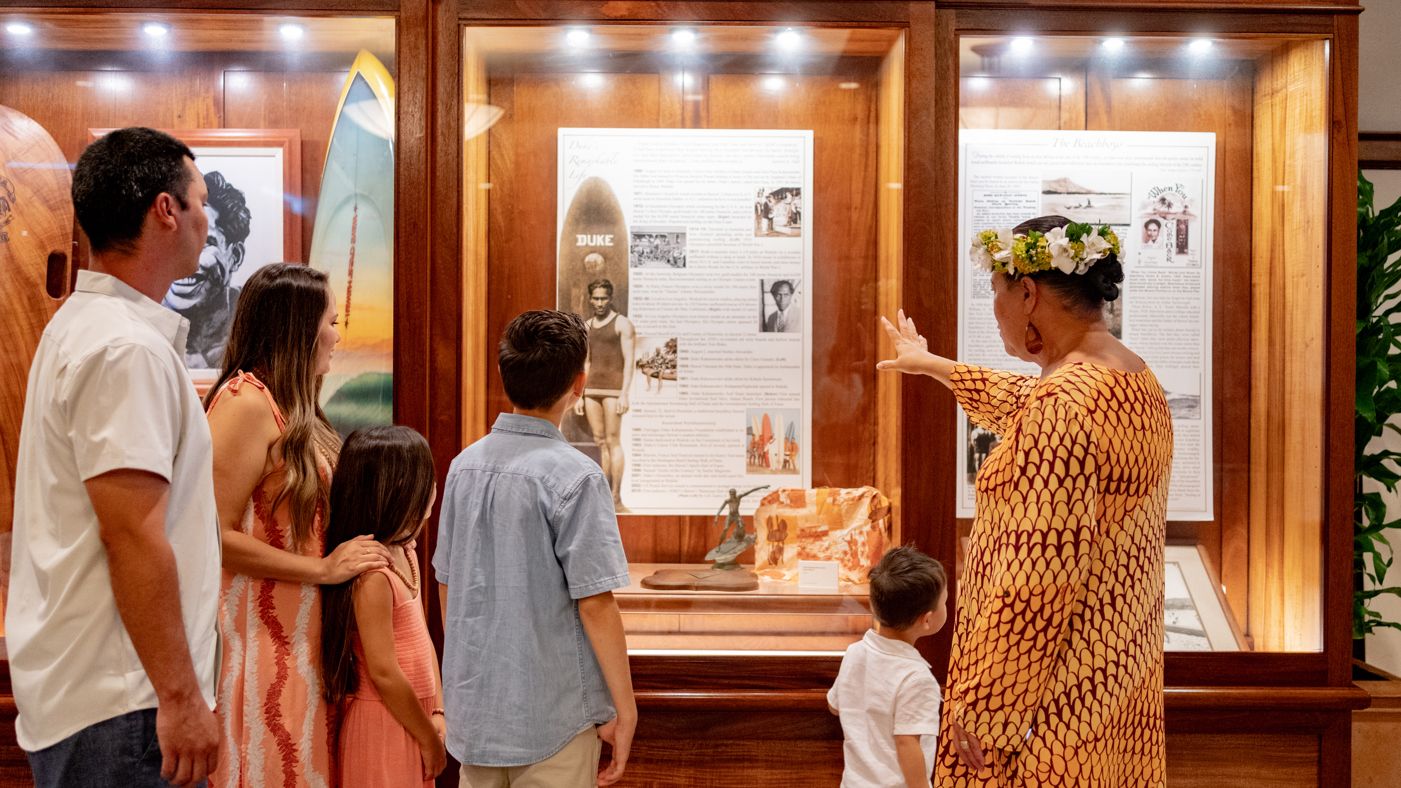 History of surf & Duke Kahanamoku at the Koa Showcase
Storyboards with the history of surfing created by the Duke Kahanamoku Foundation, artifacts on loan of tools used to shape traditional surfboards (on loan by Pohaku Stone), Duke Kahanamoku memobilias (on loan by collector Roland Tang), surf board from Waikiki Beachboy Legend Ben Aipa, his invention of the exaggerated-wing, swallowtail surfboard design in the mid '70s known as the Sting who just recently passed in 2021.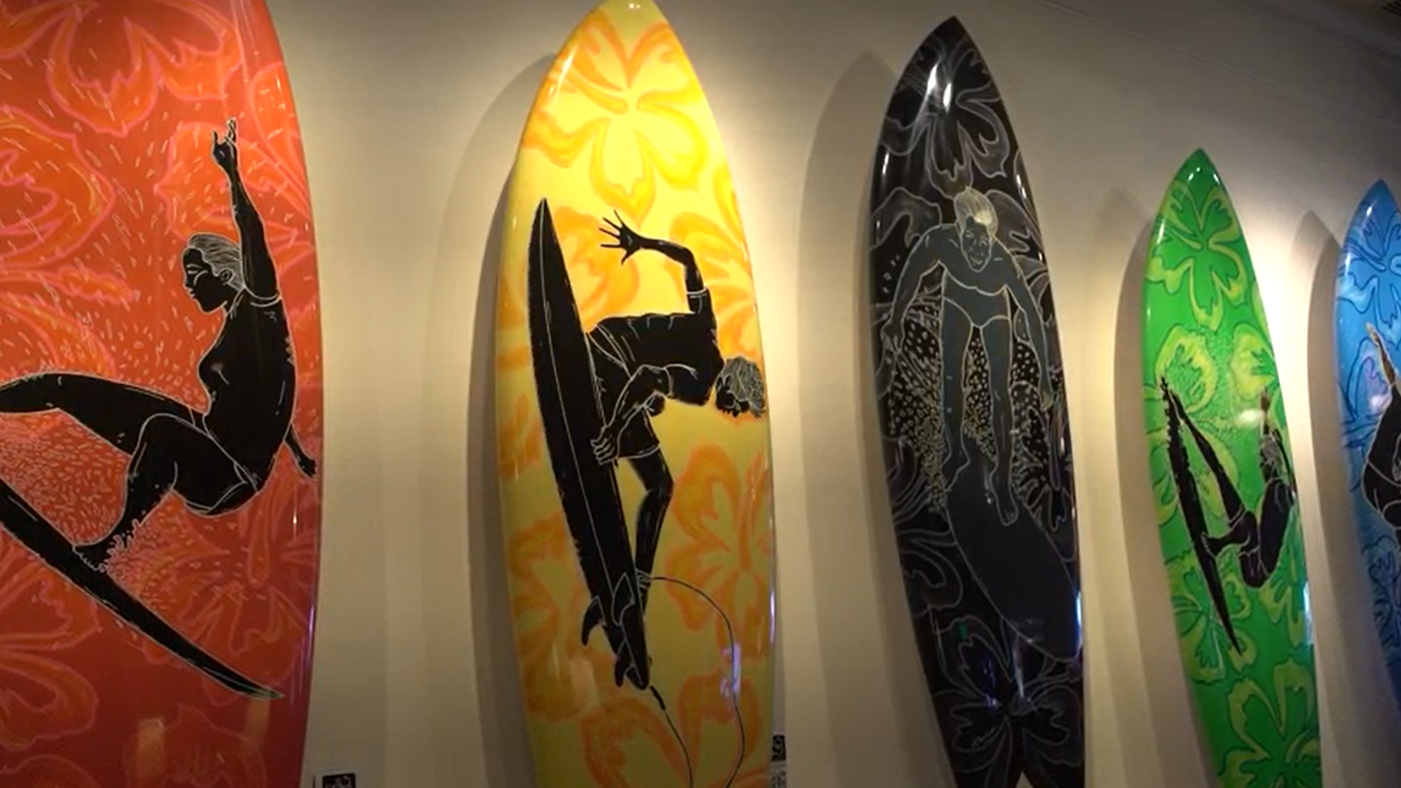 Artwork: Eduardo Bolioli surfboard art exhibit "Golden Dreams"
Bolioli's work is a natural complement to the surf culture. Duke is portrayed by Bolioli as the initiator of the Olympic dream. Alongside boards painted with U.S. surfing Olympians Carissa Moore (2021 Gold medal winner) and John John Florence from Hawaii as well as fellow teammates Caroline Marks and Kolohe Andino. Each of the five surfers symbolize one of the Olympic rings – with Duke Kahanamoku in the middle, painted on a black surfboard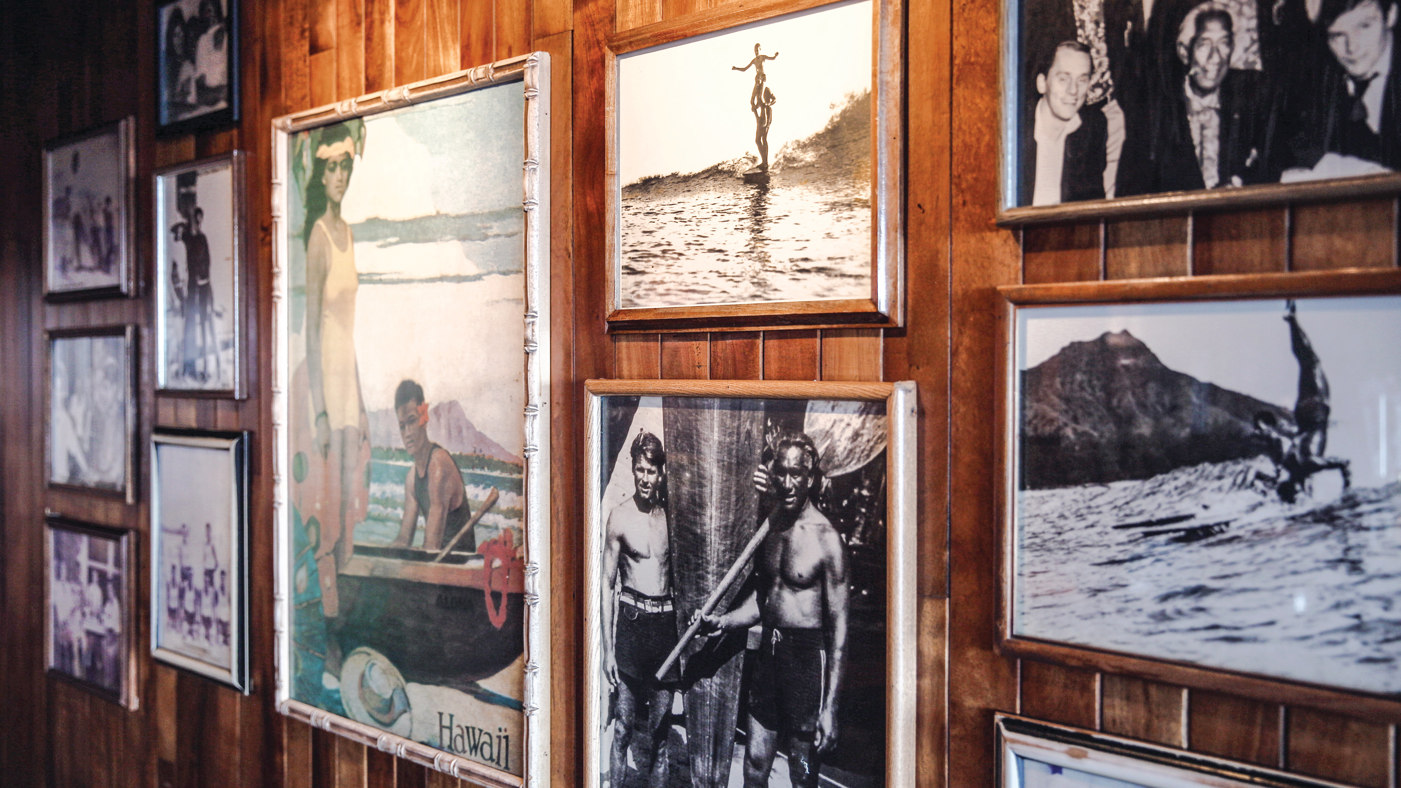 Duke's restaurant
Named after Duke Paoa Kahanamoku, father of Modern Day Surfing is one of Hawaii's most popular restaurants (also on Kauai, Maui and 3 in California) part of the TS family of restaurants. Duke's Waikiki continues the spirit of Aloha and commitment to community keeping with Duke's Creed. More than 200 photos of Duke Kahanamoku that share the story of his life as Ambassador of Aloha with dignitaries, film career and surf team.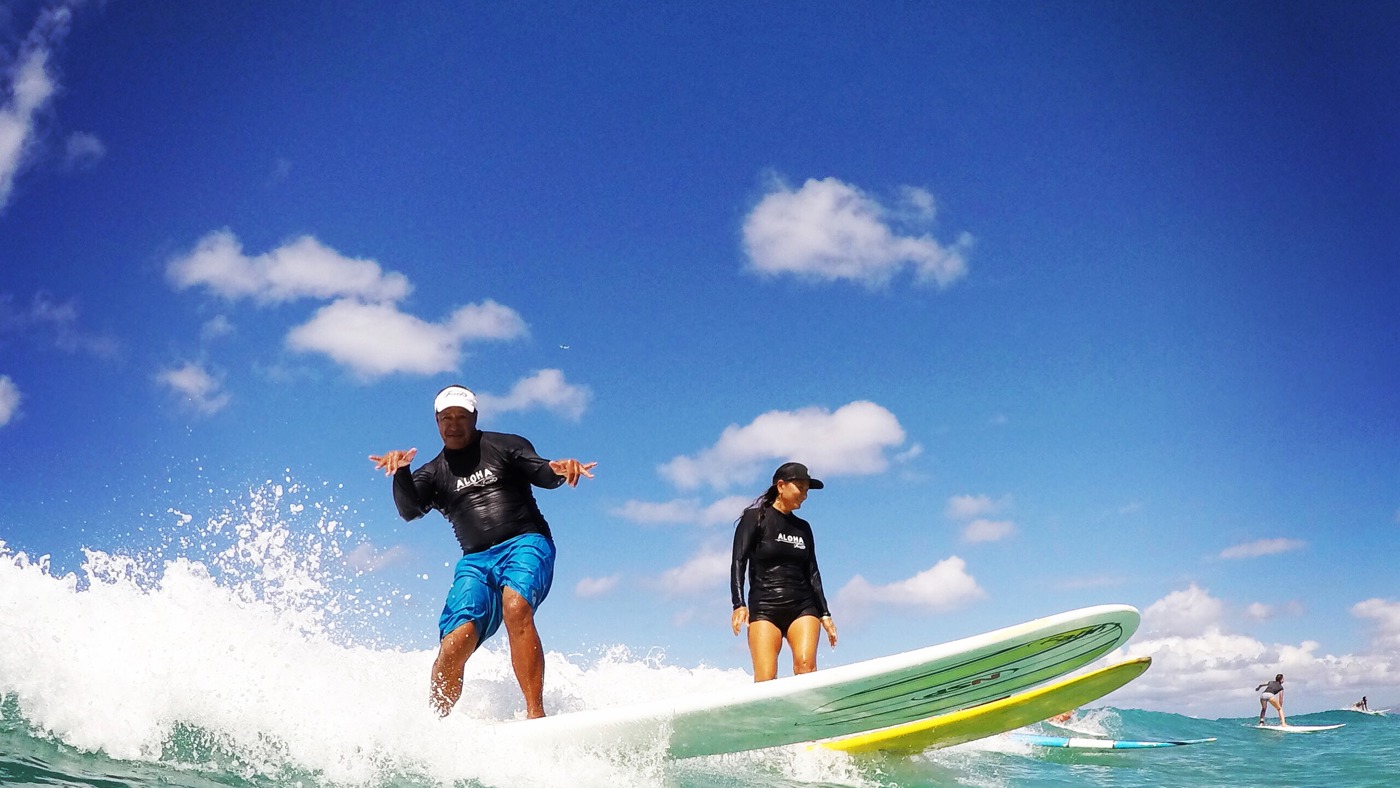 Faith Surf School
Own and operated by Pro Surfer Tony Moniz & ohana
They are one of the most well-known Hawaiian surfing families. Tony and Tammy Moniz along with their five kids Micah, Kelia, Isaiah, Joshua and Seth calls Waikiki Beach their home and playground. Not to mention that teaching our guest how to surf is a past time.